PES 2021 UD Las Palmas 2022/23 Kits Pack Full Download with PESPatchs.com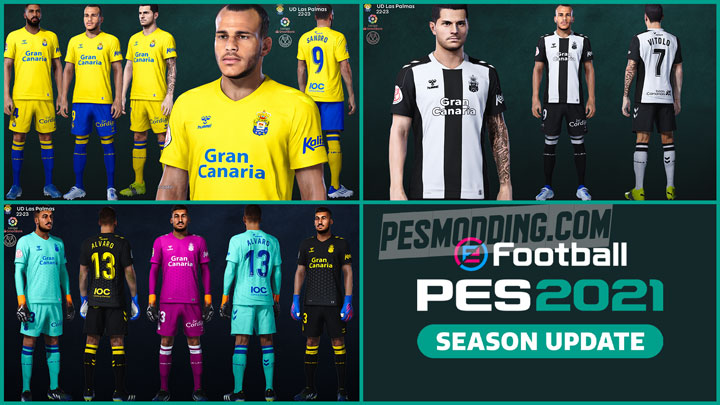 Are you a fan of the Spanish La Liga 2 football team UD Las Palmas? If so, you'll be excited to know that babamobo has released a complete kit pack for the team in eFootball Pro Evolution Soccer 2021. The pack includes 3 sets of kits – the goalkeeping, home, and away + some alternative kits – ensuring you'll always have the perfect look for your team in the virtual world of eFootball Pro Evolution Soccer 2021.
The kit pack has been designed with attention to detail, and babamobo has worked tirelessly to ensure that each kit accurately represents the real-life UD Las Palmas kits. From the colors and patterns to the badges and sponsors, the kit pack is a true representation of the team and its proud history.
!!!!!!! A polite request for lazy website owners:
Please don't copy the short description above. Sure, it's easy to just copy-paste, but please don't copy the short description above, write one yourself, it's not that hard. Copying and pasting is not the solution; in fact, you are harming your own post because it is considered spam or repetitive content, which prevents search engines like Google and others from indexing it.
Features:
Configured for kitserver
PES 2020/2021 [PC] UD Las Palmas kits 22-23
Liga and Copa del Rey kits included
How to install:
Go to your side folder …content kit-server and create a folder named La Liga 2 (Spain) IF NOT ALREADY DONE.
Extract and Copy the Las Palmas folder along the path:
… sider content kit-server La Liga 2 (Spain)
Copy the following to your kserv map:
364, "La Liga 2 (Spain)Las Palmas" code-box
IMPORTANT: Check the team ID and change it if necessary, we used 364 – UD Las Palmas ID from SP Football Life 2023.
Credits:
babamobo


For more mod please send us comment. We will help you